Regular price
Rs. 1,500.00
Sale price
Rs. 999.00
Unit price
per
Sale
Sold out
Check Pincode Availability
Contains Sugar Dry fruit Pootharekulu(pack of 10) and Sugar Kaju Pootharekulu (Pack of 10) Sugar Kaju Badaam Pootharekulu(Pack of 10)
Check Available Offers

Free delivery on your first order - promo code: "FREEDEL".
Free Express Delivery for all orders worth Rs 500 & above.
Get flat 100 off on your orders worth Rs 1000 & more - promo code:"MITTAI100".
Special discount available for all party order or bulk order.
Share
View full details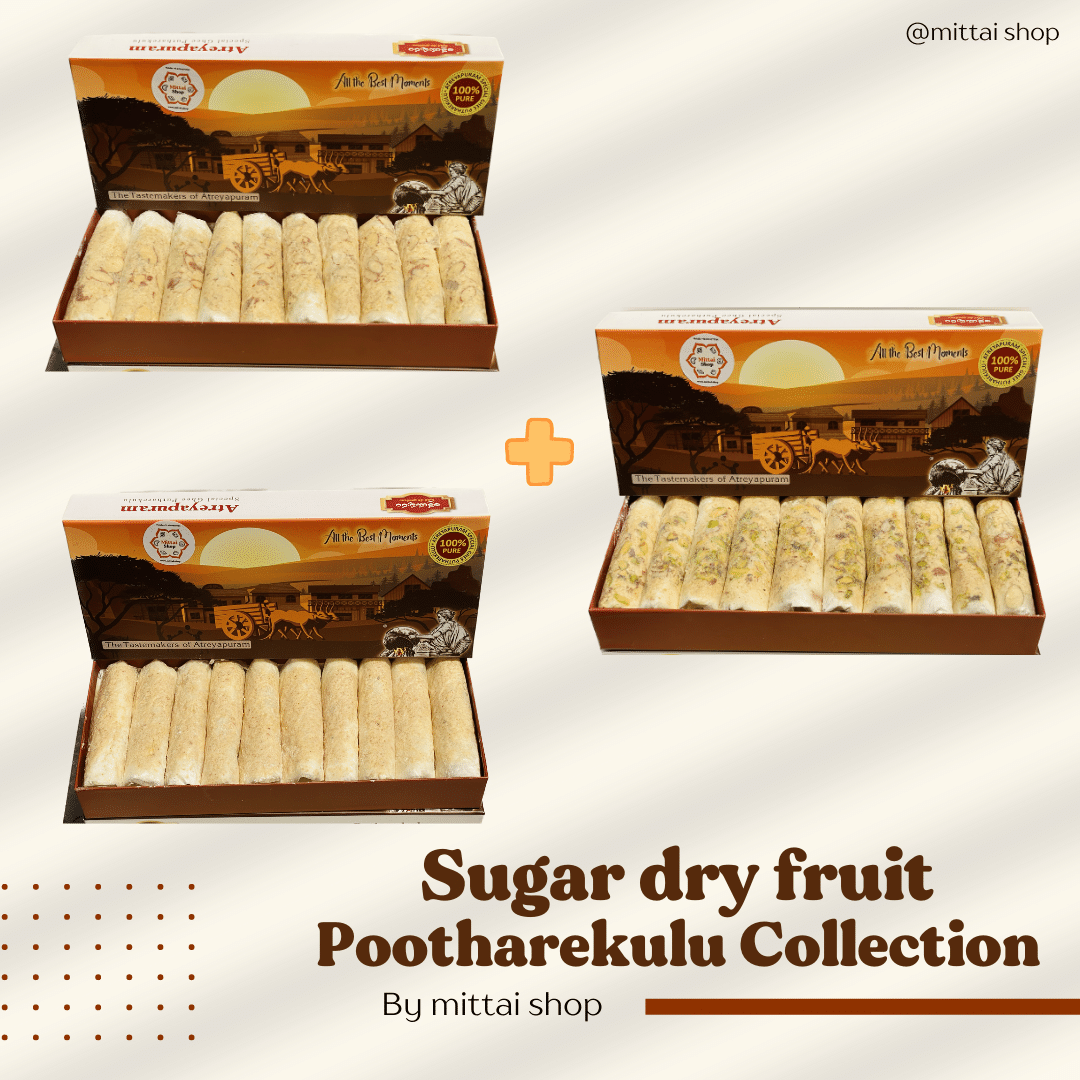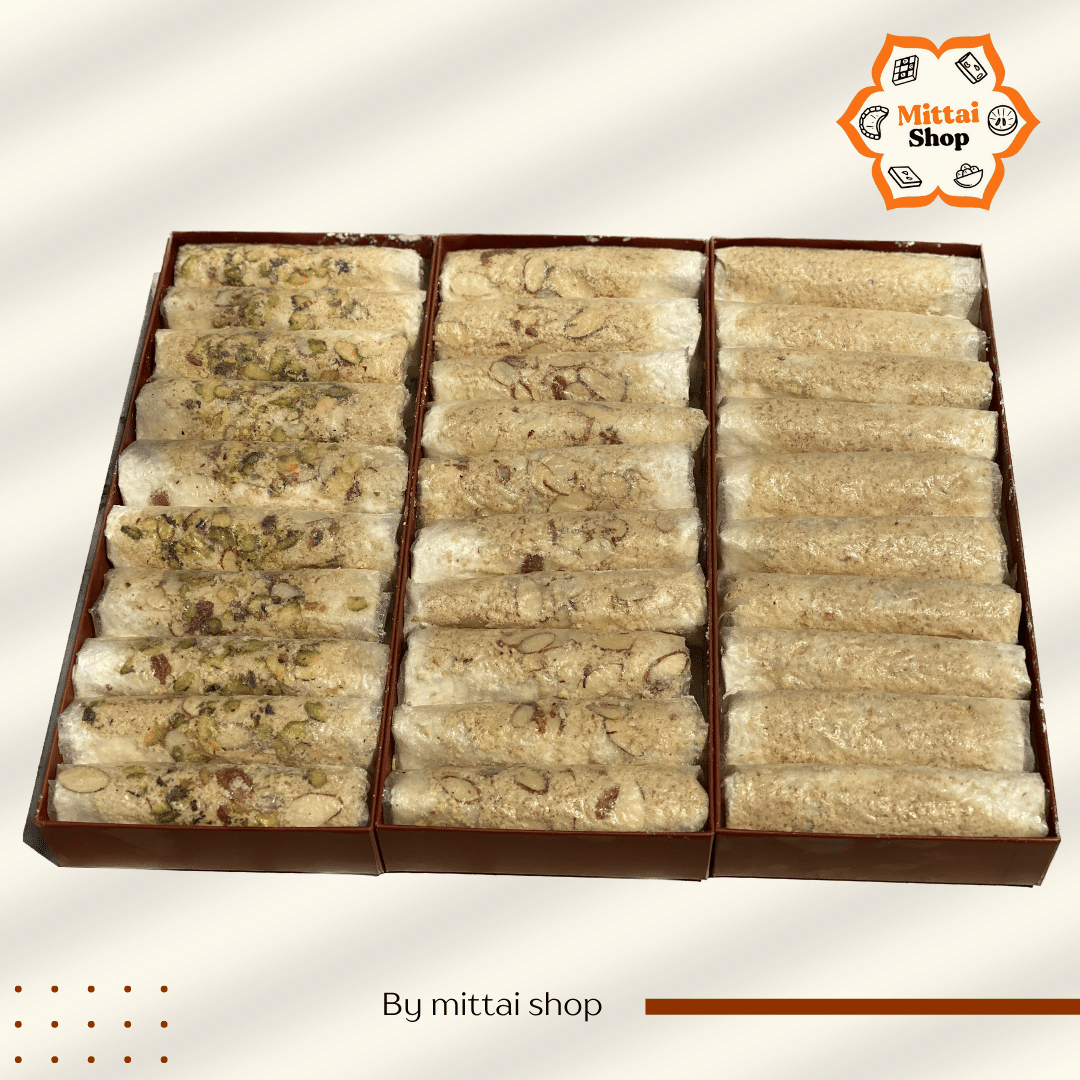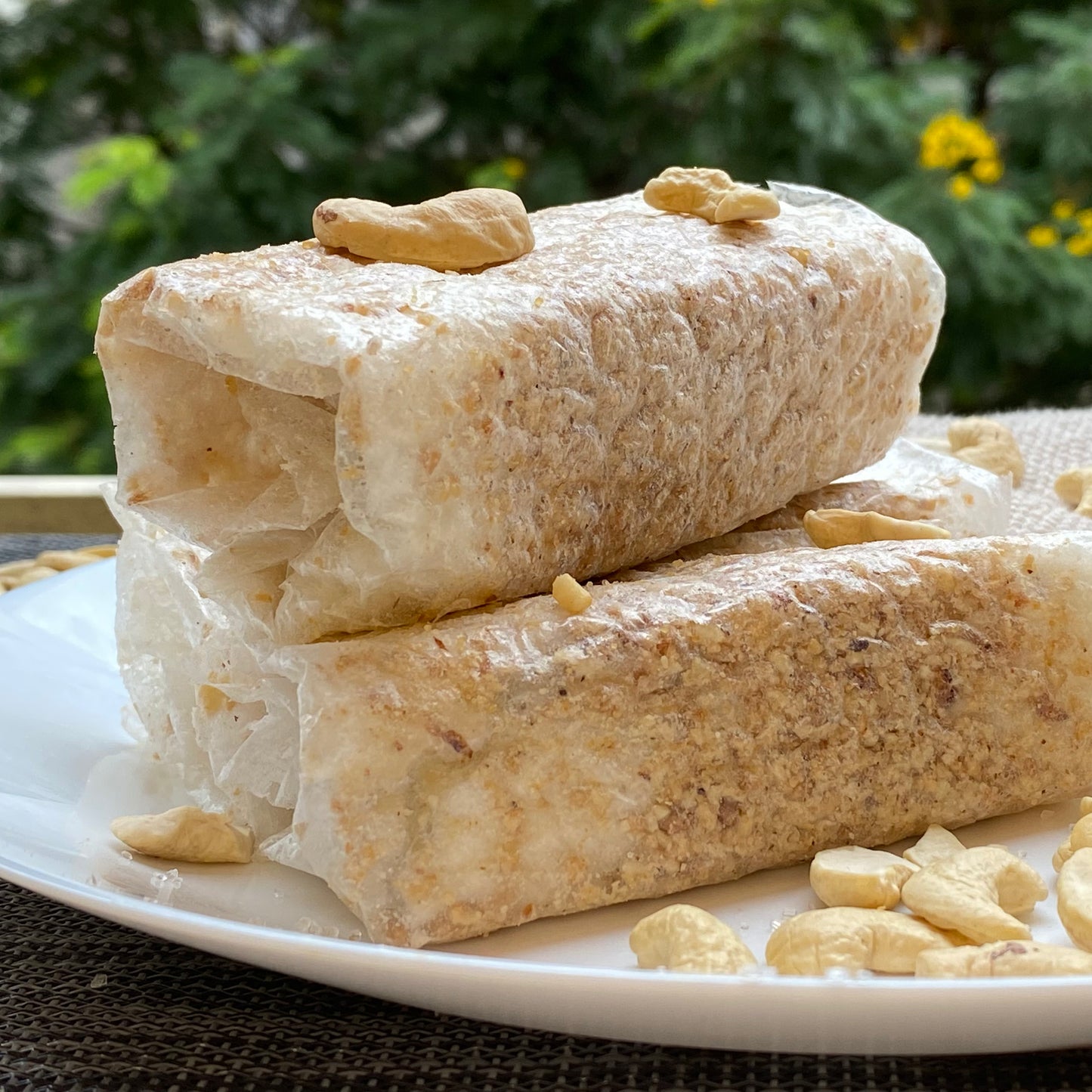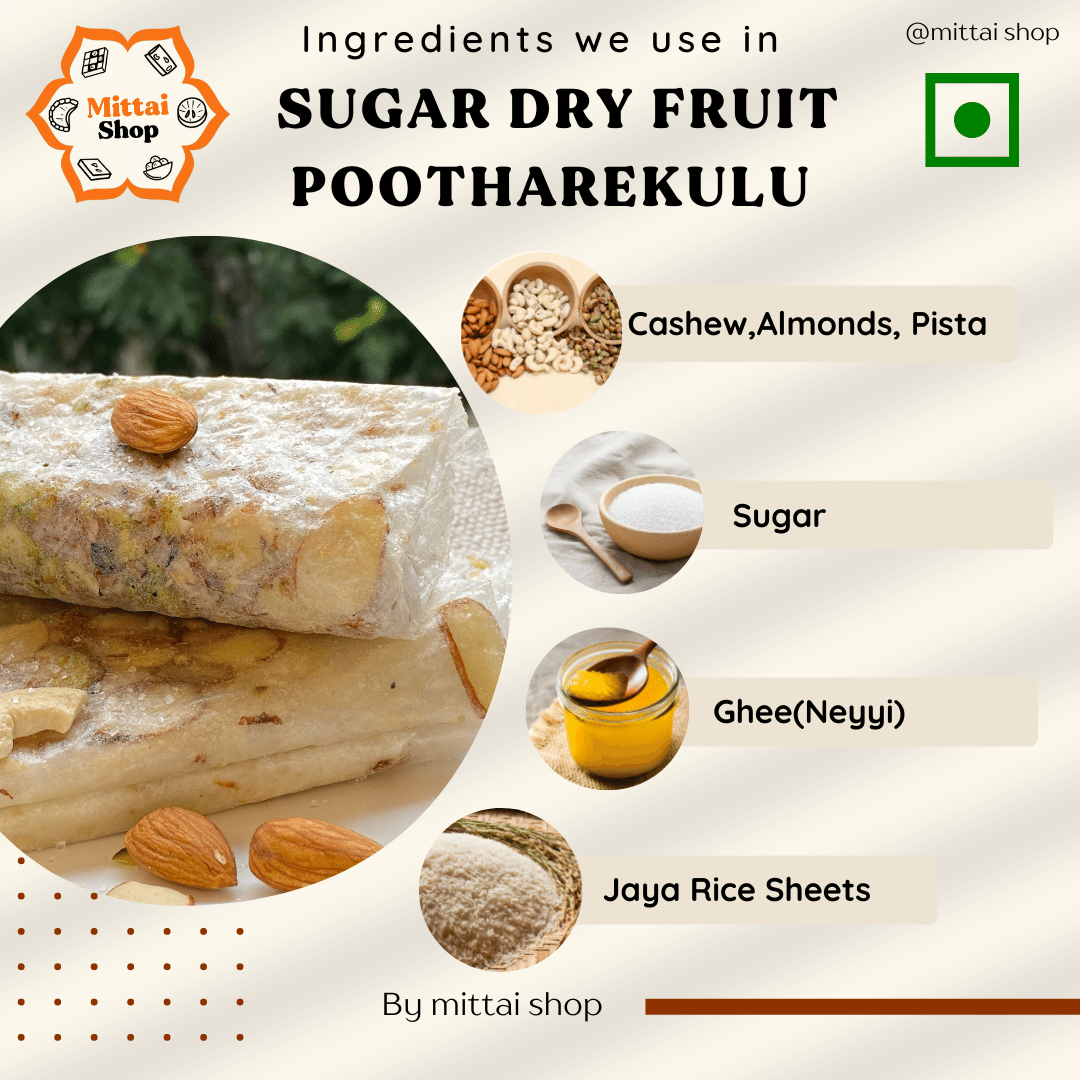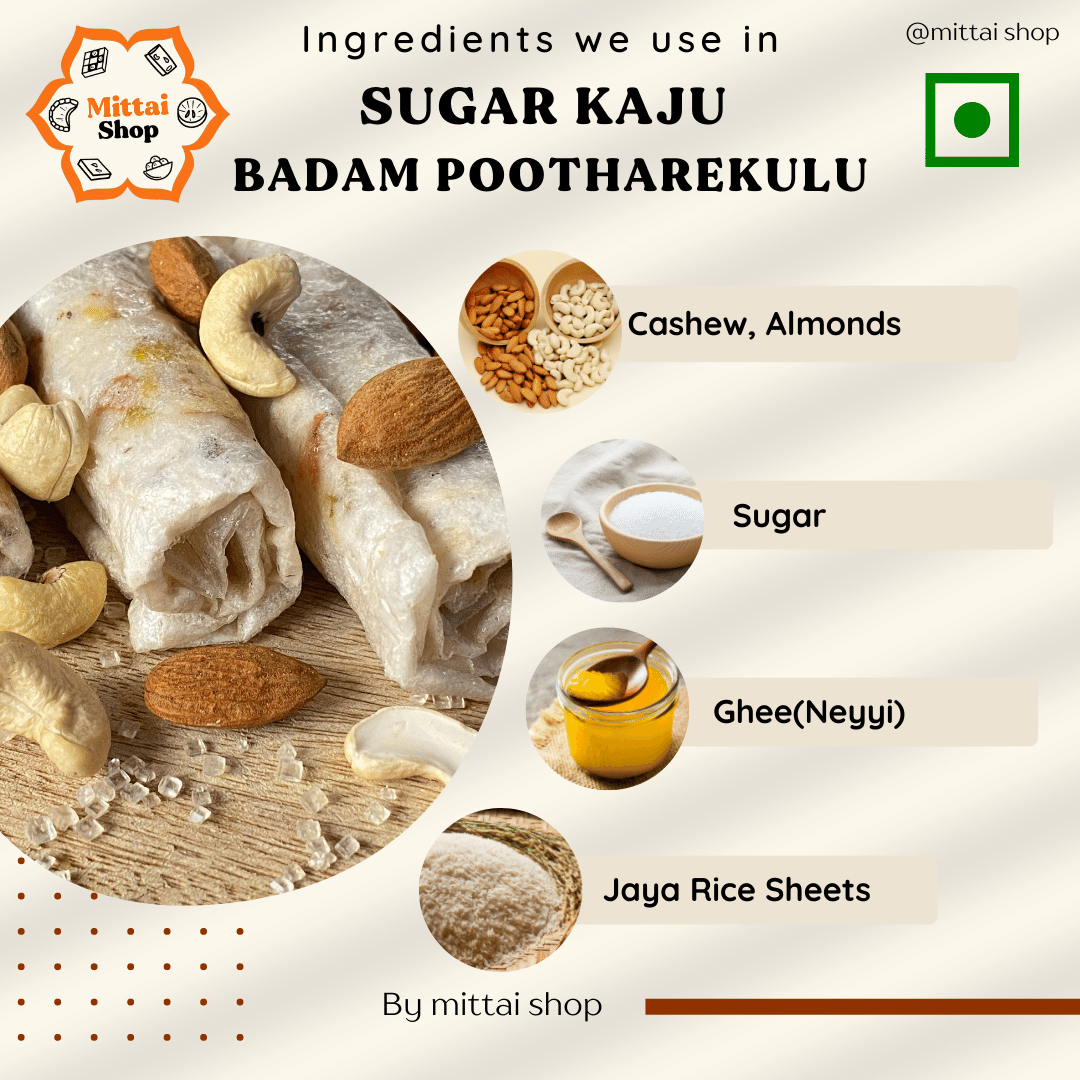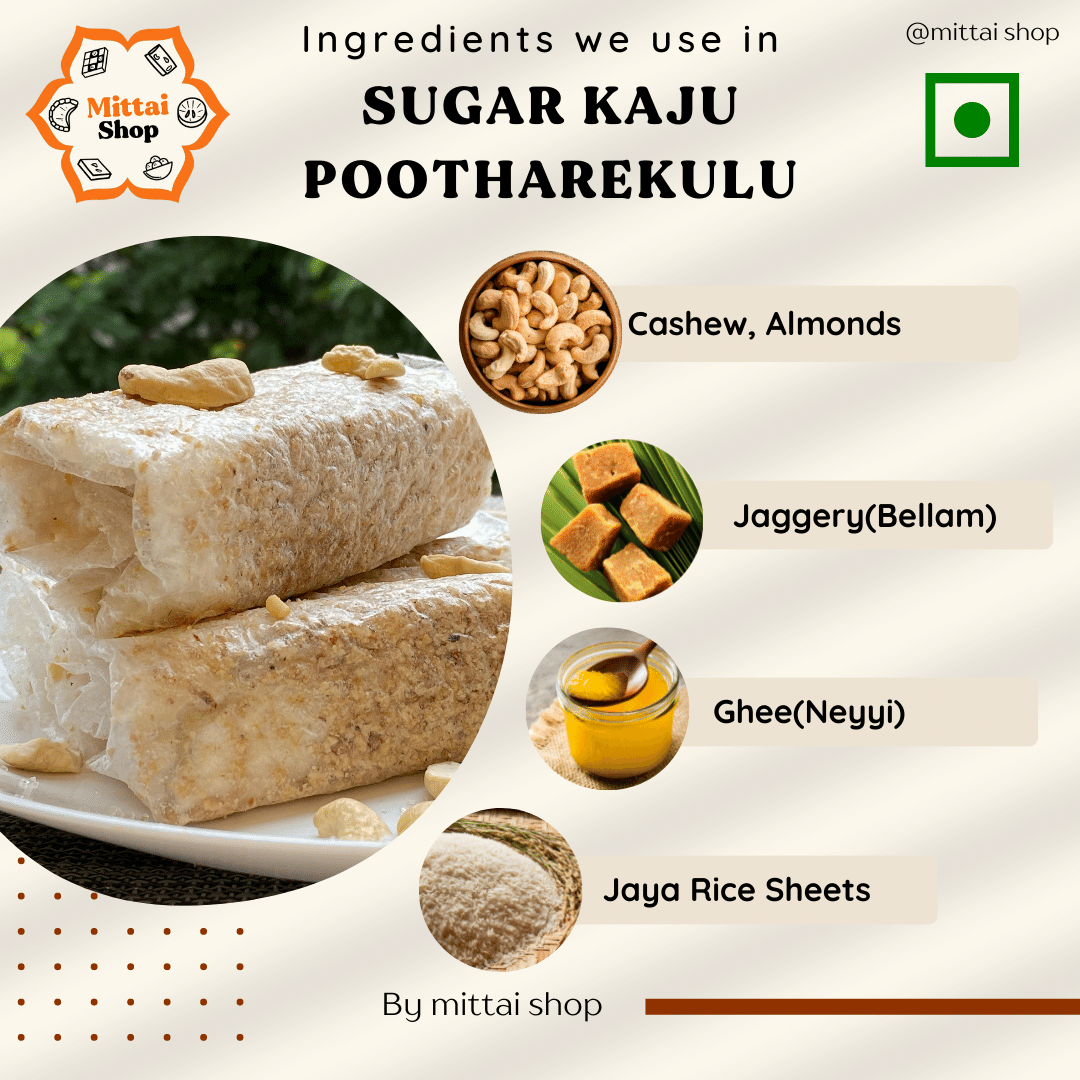 Sugar

Finely powdered sugar granules

Ghee(Neyyi)

Made with pure homemade Ghee

Rice Barn

Putharekulu/Paper sheets are made with pure Jaya Rice batter

Nuts

Made with rich grated and powdered cashews, Pistachio, Almonds

Lots of Love

Made by the mothers of Atreyapuram with love and care.
All you need to know about Poothareukulu Sweet
Atreyapuram Putharekulu is a delicious and traditional dessert from Andhra Pradesh located in South India. Due to it's irresistible taste and unique texture Pootharekulu sweet has becomes a popular choice for all special occasions and festivals.
Ingredients of Atreyapuram Bellam Kaju Badam Pista Putharekulu:
Rice flour sheet
Pure Ghee
Jaggery
Cashew (Kaju), grated
Almond (Badam), grated
Pistachio (Pista), grated
Shelf Life: 25 days
Pieces per Box: 10
Net Weight: 500g (Approx.)
Storage Instructions: Keep away from direct sunlight
Storage Temperature: Room temperature. Do not refrigerate
Serving Temperature: Room temperature
Place of Origin: Atreyapuram, Andhra Pradesh, India
Course: Snack, Dessert, Sweet
Occasions: Must-have sweet in all types of functions, marriages, and during festival times.
FAQs
Highlights

Authentic Atreyapuram Pootharekulu made from rich dry fruits, home made Ghee, papersheets made from Jaya rice. Every Putharekulu we make are authentic, homemade, healthy.
Shelf Life

Shelf life of the Putharekulu range from 20-30 days. Could be more if refridgerated.
Details

Can be ordered Putharekulu online, or through whatsapp, Contacting us directly,

Extra discount applicable for bulk orders.
Ingredients

Bellam, Ghee, Jaggery or Sugar, Dry fruits, Papersheets or Puthareku made from Jaya Rice Batter, wait...some extra love,
Estimated Delivery

Every order we receive before 2 pm gets prepared instantly and shipped the same day and Will reach you in the next 3-4 days max.
How to eat Delicious Atreyapuram Poothareukulu ?
1. Gently remove the Pootharekulu sweet from its packaging and carefully peel off the covers
2. Take a bite of the crunchy outer layer to enjoy the sweetness of the Jaggery/Sugar filling inside.
3. Allow the Poothareku bite to melt in your mouth and enjoy the dry fruit wrappers and Jaggery Ghee mixture & Repeat
The rice paper wrapping was thin and delicate, and the inside filling was a perfect blend of sweetness and crunchiness. The combination of ghee and sugar created a rich, buttery flavor that was complemented by the crispy texture of the rice flour. Overall, pootharekulu from mittai was a delightful dessert that lived up to its reputation as a traditional sweet from Andhra Pradesh. I would highly recommend it to anyone who is looking for a sweet and crunchy treat.
Packing was clean. Delivery was fast. Pootharekulu was excellent. Delicious . Will surely order in future and would recommend to others
Thank you for choosing us
I ordered pootharekulu on the occassion of JANMASHTAMI for my KRISHNA..
my order received on time. Thank you so much for that. It was nicely packed, no breakage at all... Pootharekulu was so yum, very thin layered and still crispy.
I loved your service and quality.
Thank you so much again.
Thank you for choosing mittai shop on the special occasion ❤️
Ordered 100 dry fruit Atreyapuram Pootharekukulu from Delhi. The taste, quality, packaging are so good and got them delivered to my home in 4 days ✌️
Thank you for ordering Atreyapuram Putharekulu from us.
Pootharekulu are very tasty and yummy. Even we can't make those papersweets at home at the price and quality they are offering. The packaging is so good. Got them delivered to Hyderabad to my home for free in 2days.
Thanks for ordering Pootharekulu from us Vasu garu ✌️
Influencer reviews of our sweets 😍